5 Polsham Park, Paignton, Devon, TQ3 2AD Tel: (01803) 558402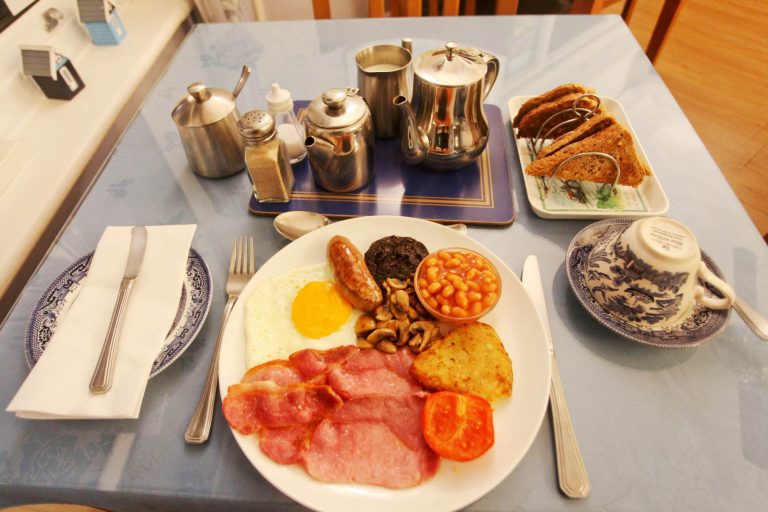 Breakfast is served between 8.30 & 9.30am in Our Light Airy Dining Room.
Breakfast is pre-ordered the evening before and cooked fresh at your requested time.
We can cater for Gluten and Wheat intolerance, Dairy Free, Diabetics and Vegetarians. Please advise us of your requirements at the time of booking.
Tea Variety of Fruit tea Earl Grey Coffee Pot or Caftiere
Orange or Apple Juice.
Fresh fruit pots

A variety of flavoured Yoghurts.
A selection of cereals including porridge
Toast – ( Wholemeal or White )
Selection of Jams, Marmalade & Honey
Traditional English Breakfast – tick your selection from below.
1 large sausage Fried Egg
1 or 2 slices of bacon Scrambled Egg
Fresh Tomato Poached Egg
Tinned Plum Tomato Hash Brown
Beans Black Pudding
Mushrooms
OR Choose from
Bacon Sandwich
Bacon & Egg Sandwich
Sausage sandwich
Sausage & Bacon sandwich – all sandwiches served on white/brown bread or toast
OR
1 or 2 Sausage & beans
1 or 2 poached eggs on 2 slices of Brown/White Toast
Scrambled eggs on 2 slices Brown/White toast
Beans on 2 slices of Brown/White Toast
1 or 2 Boiled Egg/s
OR
Ham & Cheese
OR
Omelette – Plain, Cheese or Ham& Cheese